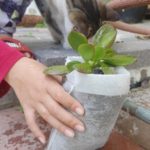 Welcome to the 2023 Spring Clearance Sale for 247Garden! If you're looking to revamp your garden this spring, this is the perfect opportunity to do so. We're offering amazing discounts on our high-quality gardening products, so you can spruce up your outdoor space without breaking the bank.
Our collection includes a wide range of gardening supplies such as planters, grow bags, ground covers, greenhouse plastic, irrigation pvc parts, garden tools, and much more. All our products are made from high quality materials and are designed to meet the quality needs of gardeners of all levels. Whether you're a seasoned gardener or a beginner, we have everything you need to grow healthy plants and veggies.
With the Spring Clearance Sale, you can enjoy steep discounts on some of our already-affordable gardening products so you can save even more.
At 247Garden, we're committed to providing our customers with high-quality products and exceptional customer service. We believe that everyone should have access to the tools they need to grow their own food and beautify their surroundings. That's why we're excited to offer these amazing deals during our 2023 Spring Clearance Sale.
So why wait? Head over to our website now to check out our collection and take advantage of these fantastic deals. Don't miss out on this opportunity to transform your garden and create your own little oasis. Happy gardening!
Check out the current clearance sale on ground covers!