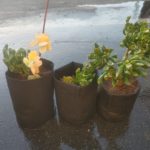 Are you an avid gardener or an aspiring green thumb? If so, you'll be excited to hear about the latest arrival from 247Garden – the New Basic 200GSM Tall Fabric Pots! These innovative grow bags come in various sizes, including 1-gallon, 2-gallon, 3-gallon, 5-gallon, and the ever-popular 7-gallon option. In this blog, we'll delve into the numerous benefits of using tall fabric pots for your gardening needs and highlight why 247Garden's reputation ensures you're getting a top-notch product.
The Benefits of Growing with Tall Fabric Pots:
Exceptional Durability: The 247Garden New Basic Tall Fabric Pots are constructed from 200GSM (grams per square meter) black fabric, making them incredibly durable. These pots can withstand the challenges of outdoor gardening, ensuring they last season after season.
Optimal Space for Root Growth: With sizes ranging from 1 to 7 gallons, these fabric pots provide ample space for your plants' roots to thrive. The tall design allows roots to grow deeper and develop extensive root systems, leading to healthier and more productive plants.
Superior Drainage: Proper drainage is essential for plant health. The fabric construction of these pots ensures excellent drainage, preventing waterlogging and root rot. Your plants will receive the ideal balance of moisture and oxygen, promoting robust growth.
Air Pruning: Tall fabric pots encourage air pruning of roots. The breathable fabric promotes air circulation within the pot, stimulating the roots to branch out and preventing them from becoming tangled or root-bound. This natural process results in more vigorous and resilient plants.
Versatility: Whether you're into container gardening on your balcony, patio, or have a dedicated garden space, these fabric pots are versatile and perfect for various gardening applications. Start seedlings, transplant young plants, or cultivate a bountiful vegetable garden – the options are endless.
Eco-Friendly and Safe: 247Garden is committed to environmental responsibility. These fabric pots are crafted with 100% new raw material, free from toxic chemicals and BPA. Gardening with these pots not only benefits your plants but also the environment.
Reusability: These fabric pots are designed to be used season after season, making them not only eco-conscious but also a cost-effective alternative to traditional plastic pots. When the growing season ends, simply clean, fold, and store them for future use.
Why grow in tall fabric pots?
Tall fabric pots provide a conducive environment for healthy root development, superior drainage, and efficient air pruning. They offer versatility, space-efficiency, and are environmentally friendly. These benefits make them an excellent choice for gardeners looking to optimize plant growth and minimize the challenges associated with traditional plastic pots.
Below are the same 1-Gallon size Tall fabric pots. They are the same pots. Just different personality.